Davis Family Tree

There are 91 individuals and 33 families representing 36 surnames in this database.
The surnames in this database include : Aldrich(1), Bennett(1), Block(1), Bone(1), Davis(31), Fickle(1), Hartman(1), Harwood(1), How(2), Hunt(1), Hyde(1), Learned(2), Leavens(2), Margaretha(1), Merril(1), Michael (1), Montgomery(1), Newhall(2), Newman(1), Paine(1), Perkins(1), Shrorf(1), Shumway(8), Smith(1), Stone(1), Strep(1), Thompson(8), Wenderoth (3), Wenderoth (Wenderroth?)(1), Wendroth(1), Winterote(1), Winterrowd(2), Woolson(2), Wyatt(2)
INDEX
A B C
D
E
F
G
H
I J K
L
M
N
O
P
Q
R
S
T
U V
W
X Y Z (NONE/OTHER)
A handwritten family history
Click the Davis crest to view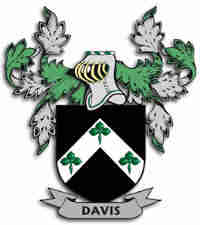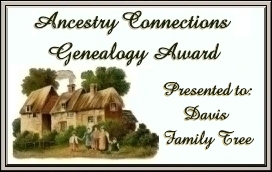 This site is a member of The Plant Your Family Tree WebRing.
To browse visit

These WWW pages were produced on Thu Dec 27 21:14:58 2001.

.
---
Please
Sign My Guestbook
Let me know what you think or what you'd like see.
---
Database Owner Contact Information
Daniel Davis
chattan@quik.com
http://davis-family.freeservers.com

---
This page, and all genealogical data contained on it are © 2002 Daniel Davis (chattan@quik.com).
Tired of those aggravating Pop-Ups?????? Click Here
Site Problems?

.

This page was produced by GED2WWW version 0.30 compiled on Sep 1 1999 at 14:17:52. GED2WWW © 1996-1999 Leslie Howard. GED2WWW is free software, distributed under the terms of the GNU General Public License. For more information about GED2WWW or the GNU General Public License visit the GED2WWW webpage at http://www.lesandchris.com/ged2www .
Last Edited: 9/9/05